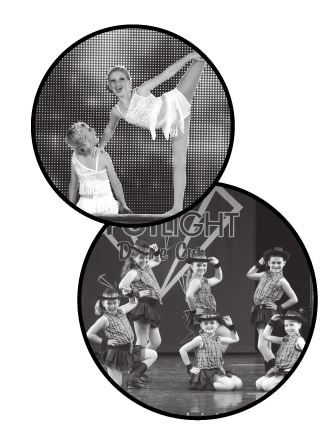 The year was 1975 and Action Day Primary Plus was a daycare that was expanding rapidly as a result of the amount of mothers entering the workforce. Because the facility wanted to offer activities to children that all stay-at-home parents can provide their kids, the dance program was created, and our first dance class was held on April 5, 1976 in a small classroom at the preschool's location on Moorpark Avenue, San Jose.
The new dance program, entitled Action Day Dance Academy, became hugely successful and studios were opened at each of the daycare's 11 locations. The program offered professional studio classes, all of which were conveniently located at their respective schools. By the late 1990s, the studio had over 800 students, and we were proud to produce a yearly production-style recital at downtown San Jose's Center for the Performing Arts (CPA) theater. Between 1976 and 2009, Action Day Dance Academy saw over 15,000 pairs of dancing feet come through its studios, and we are proud to have many alumni that have continued to dance through college, some even going on to perform professionally.
In 2009, we realized the demand for performance opportunities for the dancers. Our students wanted to feel part of a team and felt there was nothing available to them beyond sports teams. To address this, in September of that year the West Valley Dance Cats group was created for dancers craving additional performance opportunities and competitive dance experiences. Our first team included 20 dancers from the fourth to eighth grade. The first season was an exciting one and included a trip to Disneyland in which our students took part in the holiday parade down Main Street USA, as well as a successful competition routine that received various awards and accolades.
Over the next five years the West Valley Dance Cats, later known as the West Valley Dance Company (WVDC), continued to grow and expand to include Dance Kittens (four-to-six-year-olds), Tom Cats (all boys hip hop), and All Stars (a high school team). The team continued to enjoy much success at regional competitions as well as national contests in Vegas. WVDC became known for big production routines that included up to 80 dancers.
With over 100 performance/competition team members, in the spring of 2015 we realized that we could not handle our continued growth if we did not seek studio space outside of the Action Day Primary Plus schools. Accordingly, that April, we signed the lease on our first studio at 1226 S. Bascom Avenue. The location was perfect for us because it was near our elementary and middle schools and was central to our preschools.
We wanted to make the studio unlike any other dance studio around, so we paid particular attention to the design and aesthetic. Our goal was to have a space that would make the dancers feel special as well as being a nice place for parents to watch and for the dancers to do their homework. We chose a Tiffany Blue and silver color scheme and applied it throughout the studio. White-tufted sparkly benches lining the reception area, glass doorknobs, silver-patterned wallpaper in each studio, and beautiful crystal chandeliers were just a few of the signature design details.
On June 15, 2015, the West Valley Dance Company opened, offering classes in ballet, jazz, tap, hip hop, lyrical, adult tap, ballet, Zumba, and Pilates. In addition, all our preschool studios were remodeled to match the new motif and adopted the new name.
In February 2016 we opened our second studio location in Willow Glen, right next door to our newly acquired Action Day Primary Plus infant center properties on Lincoln Avenue.
In June 2016, West Valley had its annual show at the CPA, presenting the story of Peter Pan; this included a flying cast. We had so many dancers that we had to produce three shows, a first for us.
Also in June 2016, we were given the opportunity to lease the unit two doors down from our Bascom studio. Because we had already outgrown our first studio, we were ecstatic about acquiring the new space. We built one large dance studio (Studio 3) and a dance boutique, which we called West Valley Dance Boutique. The boutique and studio opened on August 6, just over a month after we had acquired the space, to much success.
June 2017 was an exciting month for us. Not only had we decided to produce a show we had never done before, Toy Story, we decided to write an original script and have our main characters miked up and using their real voices (another first for us). We even managed to include an Action Day classroom in scene 3, complete with hanging art created by our Moorpark JrK class.
Also in June 2017, we had the opportunity to expand northward to Mountain View on the El Camino Real. On August 29, 2017, West Valley opened its third location in Mountain View and welcomed its first group of students. We are currently making plans to convert the space into two studios in early 2018.
September 2017 saw us gain another expansion opportunity, this time for our Willow Glen studio. The building next door had a space for lease that we could not pass up; we made it into one large dance room with a lounge in the back. Willow Glen studio 2 welcomed its first dancers in November 2017.
In January 2018, the Bascom studio once again expanded to include a fourth studio to be located in the same strip mall as the current studio. The new studio primarily houses our competition dancers and makes room for more recreational classes in studios 1, 2, and 3.
As our programs continued to grow, we found ourselves in need of additional studios. We were lucky to have an additional space become available to us in 2019 in the Bascom parking lot near studio 4, and studios 5 and 6 joined the Bascom studio.
Throughout 2020, while the world went through quite an uncertain time, WVDC seamlessly transitioned to virtual classes, keeping the spirit of dance alive in the homes of our dancers. While our traditional in-person recital was not possible this year, we are proud to have orchestrated a virtual recital, celebrating our dancers for all their hard work throughout the year.
In early 2021, we were presented with the opportunity to add ballroom dance to our brand. We were thrilled to give our original Bascom studio's lobby a mini-makeover, expanding the space to serve both our recreational and ballroom classes.
June 2021 brings the expansion of our program into Acrobatic Arts, in our brand new, state-of-the-art facility on Bascom Ave. Classes include Tiny Tumblers beginning at 18 months, Buddy & Me Music and Movement classes for 2 years and under, Preschool Acro for ages 3-5 years, and beginning and advanced levels of Acrobatic Arts.